WALK OR RUN TO SUPPORT SICK KIDS!
Join us on Sunday, 30 July and race to support sick and injured children.
Starting at Metcalfe Park in Pyrmont, experience stunning views of Sydney Harbour and iconic landmarks as you race for sick kids.
Over 800 families depend on Ronald McDonald House in Randwick every year, we provide a warm and welcoming place to stay in a supportive and understanding environment.
But, did you know it costs an average of $160 a night to support a sick child and their family at the House?
Be part of Sydney's ONLY harbourside race for the kids! Run, jog, stroll, push a pram or walk your dog and help provide sick kids and their families with a safe place to call home as they face the most difficult time of their lives.

RBC RACE FOR THE KIDS
PROUDLY SUPPORTING
RMHC SYDNEY
EVENT DATE:
SUNDAY, 30 JULY 2023
DISTANCES:
4km/8km
START TIMES:
8km run from 8:30 AM
4km run and walk from 9:00 AM
LOCATION:
Metcalfe Park, Pyrmont
1. SIGN UP
Sign up, choose your distance, set your fundraising goal and get ready to race for sick kids on Sunday 30 July 2023.
2. SHARE YOUR CHALLENGE
Your amazing fundraising coach, Amber and our team are here to help you with everything you need to succeed and reach your fundraising goal.
3. RACE FOR SICK KIDS
Walk, run or jog and join us on Sunday 30 July 2023 at Sydney's ONLY harbourside race for the kids!
Anonymous just donated

$82

Kirsten Drengenberg just donated

$104

Jenny Davis just donated

$52.75

Anonymous just donated

$4

Karen Hick just donated

$83.20

Bonny just donated

$81

Mark Daly just donated

$105.50

Jen Evans just donated

$31.65

Liam Orr just donated

$81

Annette Chappell just donated

$84.40

Levy fam just donated

$52.75

W and M Wheeler just donated

$52.75

Yvette Larkin just donated

$132

Lily just donated

$63.30

Darryl just donated

$208

William Purcell just donated

$26

Alanna Wickens just donated

$1

Katherine Eikeland just donated

$3.85

Lisa Chan just donated

$1

Austin Meier just donated

$337.60
MEET OUR COURAGEOUS AND BRAVE KIDS
Finnlay has survived chemotherapy, lumbar punctures, bone marrow aspirations and more as he battles his cancer diagnosis.
No matter what he's going through, this little legend always has a smile on his face.
Nights stayed at the House:
248 nights
Isabelle has Scoliosis which is a sideways curvature of the spine. It can be painful and quite disabling.
But that doesn't stop her from living life to the fullest!
Nights stayed at the House:
62 nights
Kayla is tough as nails after going through two cancer treatments before even reaching her teenage years.
She has spent 253 nights at the house so far, fighting hard and her family have never left her side.

Nights stayed at the House:
253 nights
Sign Up and Be Rewarded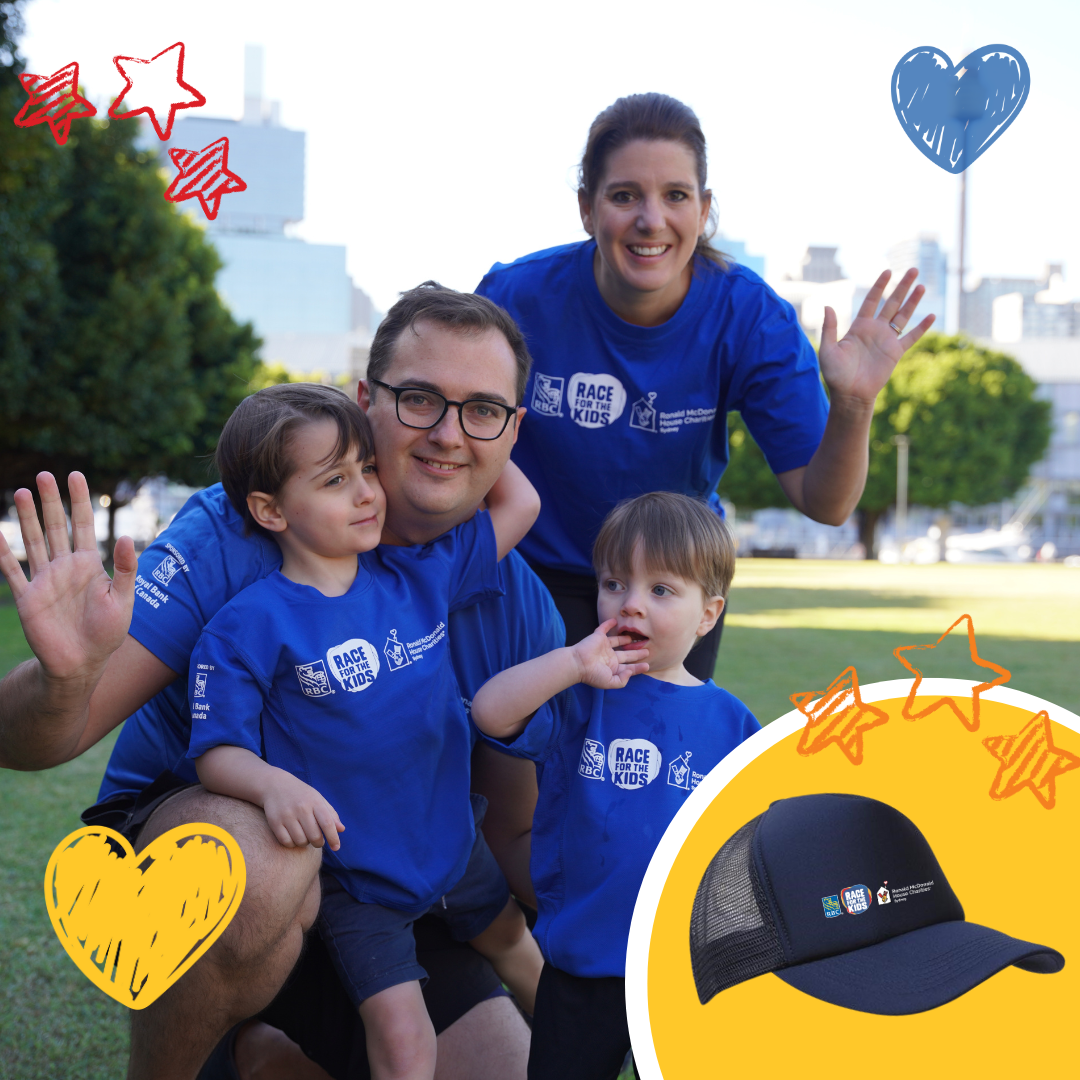 Check out these amazing rewards for your fundraising efforts supporting RMHC Sydne
By taking part in RBC Race for the Kids, you are doing more than just providing a place for sick kids to sleep and have a meal after a long day at the hospital. YOU are making sure they can keep their families close. YOU are giving them a normal childhood at the House and a chance to just be kids! You are helping families avoid the financial stress of being away from home. Most importantly, you are providing them with love and support from a community of families, volunteers, and staff.
800 families
This year, over 800 families will be staying at Ronald McDonald House in Randwick
8000 meals
Over 8,000 meals will be served to our families by our amazing volunteers and staff
650 children
Around 650 children a year will continue their education with lessons at the House
29 nights
Families stayed on average 29 nights at the House in 2022, with the longest stay being over 365 nights.

Thank you to our amazing partner, RBC Capital Markets, for supporting Ronald McDonald House Charities Sydney for over 6 years raising close to $1 million (approximately 6,250 nights) for sick kids and their families.